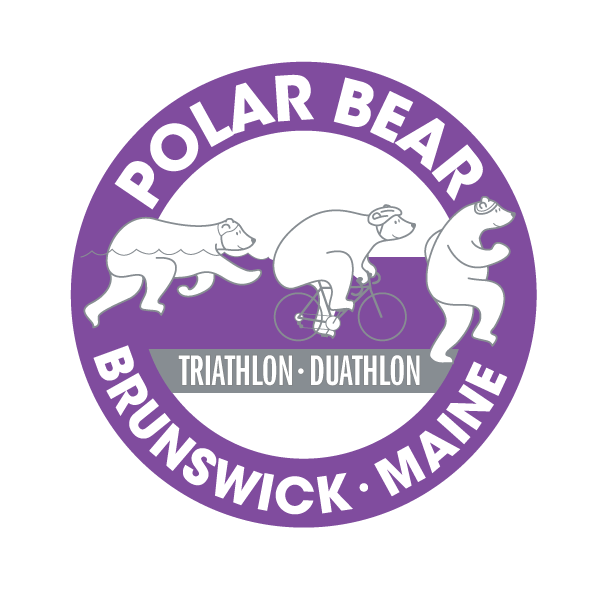 Saturday, May 6, 2023
We are excited to announce The Polar Bear Triathlon / Duathlon will be back on its traditional date of Saturday May 6, 2023.
The Polar Bear Triathlon / Duathlon is New England's season opening event! A sprint triathlon and duathlon perfect for beginners and experienced triathletes alike combining a pool swim, a scenic bike course on country coastal roads, and epic and fast run on wide hard packed trails and quiet neighborhood streets.
8:30a Start Time
The Polar Bear Triathlon and Duathlon takes place the first Saturday of May annually to open the triathlon season in New England. The race is contested on the beautiful campus of Bowdoin College with world class facilities including a 16 lane pool, locker rooms with showers (pending availability), wonderful flat grass transition area and world class event production. This pool swim triathlon is a great race for beginners to get their feet wet and seasoned triathletes to start their season without the concerns of a cold, open water swim.
Distances
525 yard swim OR 2 mile run for duathletes
11.5 mile bike
3 mile run
Virtual participants compete them all at once, or separately, it's up to you.  Swag will be mailed in June to all virtual participants.
The Polarbear Triathlon / Duathlon will be sanctioned by USA Triathlon. If you are not an annual member of USA Triathlon, you will need to purchase a $15 one-day membership when you register.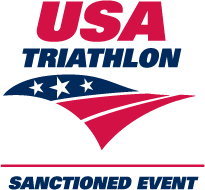 Invisible
Pricing
We have a tiered pricing schedule that includes significant discounts for early registration.
Register early to receive the best pricing!
Included with your entry: Race shirt, finisher gift, great post race food and of course a scenic and safe course through Brunswick, Maine.
Students Get Special Pricing
A student must be enrolled full-time and have a student ID. Price for students based on a significant discount and IDs will be checked at registration. Hischool students are eligible for FREE entries!
USA Triathlon (USAT)
Members will be required to be a one day membership during the registration for $15
What is USAT? USA Triathlon ("USAT") is the national sanctioning body for the sport. Every participant in the Polarbear must have an Annual USAT Membership or purchase a one-day license for $15.
The Polarbear Triathlon/Duathlon is once again expected to fill to capacity. Sign up early to ensure your spot in this fun kick-off to the triathlon season!
Pricing
| | | | | | | | |
| --- | --- | --- | --- | --- | --- | --- | --- |
| Deadline | Triathlon/Duathlon | Aquabike | 19 and Under | College Student | Triathlon Relay | Student Relay | Virtual |
| 28-Nov | $85 | $65 | $0 | $50 | $140 | $75 | $50 |
| 31-Dec | $90 | $70 | $0 | $50 | $145 | $75 | $50 |
| 28-Feb | $95 | $75 | $0 | $50 | $150 | $75 | $50 |
| 9-Apr | $100 | $80 | $0 | $50 | $155 | $75 | $50 |
| 30-Apr | $110 | $90 | $35 | $50 | $160 | $90 | $50 |
| Last Minute | $114 | $95 | $35 | $65 | $165 | $105 | $50 |
| On Site | $125 | $105 | $45 | $75 | $170 | $120 | $50 |
The Polar Bear Triathlon / Duathlon will take place on its traditional date of Saturday, May 6, 2023.
Packet Pick-Up
YOU MUST HAVE YOUR ID AND USAT CARD IF YOU'RE AN ANNUAL MEMBER TO PICK-UP YOUR PACKET
Thursday, May 4 Cyclemania, Portland, ME – 4:00 pm to 5:30 pm
Friday, May 5, Farley Fieldhouse, Bowdoin College – 3:30 pm to 5:30 pm
Saturday, May 6, LAST MINUTE PACKET PICKUP, Farley Fieldhouse, Bowdoin College – 6:30 am to 7:30
SUBJECT TO CHANGE
WE STRONGLY ENCOURAGE YOU TO PICK-UP YOUR PACKET IN ADVANCE AT CYCLEMANIA IN PORTLAND, MAINE OR AT THE VENUE THE DAY BEFORE THE RACE
Timeline
Thursday, May 4
| | |
| --- | --- |
| 4:00p-5:30p | Packet Pick-up at Cyclemania, Portland, Maine |
Friday, May 5
2:30p
Transition Clinic with Kurt Perham at PBM Coaching
3:30p-5:30p
Packet Pick-up at Farley Field House, Bowdoin College, Brunswick, Maine
(just inside from Transition)
5:30p
Swim orientation / question and answer – Greason Pool/Farley Field House
Saturday, May 6
| | |
| --- | --- |
| 6:30a | Packet Pick-up opens at the Farley Field House |
| | Transition area opens, bike check begins, body marking begins, and race numbering timing chip pick-up is available at the Farley Field House at Bowdoin College |
| 7:30a | Packet Pick-up ends |
| 7:30a | Swim Warm-up begins |
| 8:00a | Swim Warm-up ends |
| 8:00a | Race numbering and timing chip pick-up ends |
| 8:10a | Transition area closes |
| 8:15a | Opening remarks and mandatory pre-race meeting in the pool area. All athletes must be out of the transition area. |
| 8:20a | Final call for 1st wave participants |
| 8:25a | Triathlon wave 1 starts |
| 9:00a | Duathlon Starts to the far side of the transition area |
| 10:30a | Duathlon awards (approximate) |
| 11:00a | Overall Awards Ceremony |
Swim Start Procedures
How an Indoor Pool Swim Works
You will be seeded into swim groups based upon your expected swim time. This means that, when you register for The Polar Bear Triathlon, you are going to indicate your estimated time. If you don't know your swim time, please do the best you can to guesstimate and then you can go to a pool and time yourself prior and update later. To keep the overall pace of the race flowing, it is very critical to be accurate and honest with your swim time before the event. If you need to change your swim time, simply:
Goto TriSignUp.com
Click Sign-in
Put in email and password
Click on Profile
Click on My Registered Race
Click on Polar Bear Race
Click edit/view my registration
Click on Questions category in the left hand navigation and update swim time
If you have problems with the above process, please email your updated swim time to [email protected]
How The Polar Bear Triathlon Swim works

Modified Wave Start Swim
Swimmers will be seeded into groups. The first group of swimmers (32) will all enter the pool, their
time will start from their chip when they leave the pool deck, and start their swim together. There will
be two swimmers in each lane, swimming back and forth, completing their entire swim in one lane.
As each person finishes, the lane will be filled by the next person in line to start, from the next group.
There will be no waiting until the wave finishes to fill the lane.
Each person will swim their 525 yards, up and back, 11 lengths of the pool. We will have counters
and will signal when you are done 9 lengths and then back at the finish, however, it is your
responsibility to count your laps and know when to exit the pool in your lane, and head to the
transition.
NO DIVING!
Courses Descriptions and Maps
Swim
Pool swim is 525 yards (21 lengths) with wave starts (approx 30 athletes per wave). You will be placed in the appropriate wave based on the estimated swim time that you give when registering (so it is very important that it is accurate!). If you did not give an accurate swim time, PLEASE go time yourself in a pool and update your registration online. There is a 20 minute time limit to complete the swim portion of the race. If you do not complete the swim in 20 mins, you may be asked to get out of the pool. You will be allowed to finish the rest of the race, but your time will be considered unofficial and you will not be eligible for awards.  PLEASE NOTE: It is imperative that you provide an accurate swim time for 525 yards. If you give a false swim time that puts you in an inappropriate wave, we reserve the right to move you to a different wave at any point.
Bike
11.5 mile loop course with rolling/flat terrain and ocean views on low traffic country roads. There are no aid stations, but there will be lead and sweep vehicles. You are responsible for your own water/support on the bike course. If you have mechanical issues on the bike, do not count on a mechanic coming to help you. You should have the tools and knowledge to handle a breakdown, if it were to happen. All athletes must be off the course by 11:45 a.m. If you are not finished with the bike leg by that time, you will be picked up by a sweep vehicle and returned to the transition area. You will be allowed to finish the rest of the race, but your time will be considered unofficial and you will not be eligible for awards.
Download Bike Course Map and Cue Sheet

Download Bike Course Cue Sheet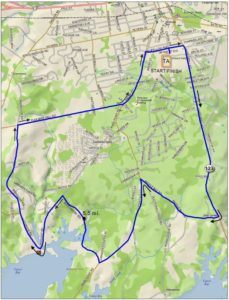 Polar Bear Bike Course Map
(Click for Larger Map)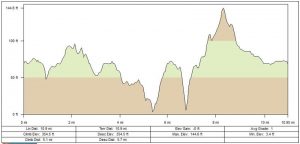 Polar Bear Bike Course Profile
(Click for Large Profile)
Run
3 mile run is off and on road course. Wide trails and quiet neighborhood streets. There will be aid stations approximately every 1 mile. This year's route will have one and a half laps of the trail. Please see course map link for more detailed explanation.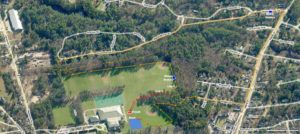 Parking
There is plenty of parking at the venue in the parking lots at the Farley Field House.  Please be on site early as you'll need to have your bike in the TA by 8:00a There is easy access in and out of the parking lot during the race from the north for friends, family and spectators.
Duathlon
The first 2 mile run will be a shortened version of the second run, with only half a lap of the trail. The bike, second run, and transition will be the same as the triathlon. The Duathlon will begin at approximately 9am.
Relays
Relays are required to hand off the chip at their designated bike rack spot only. The cyclist cannot remove the bike from the rack before being tagged by the swimmer. The cyclist cannot tag the runner before re-racking the bike. The overall time for a relay will be the aggregate of times for each of the members.
Awards
Top 3: Male/Female/Non Binary overall
Top M/F Bowdoin Student and Alumni
Top 3 in each age category (19 and Under, then every 5 years up to 85 and over)
Top 3 Clydesdale (Men 220lbs) and Athena (Women 165 lbs) – you must register for this division instead of your age group
Top relay in each division (all-male, all-female, co-ed)
Please note that age (and age group) is based on Dec. 31st of this year, NOT what your age is on race day.
Lodging
Fairfield Inn & Suites by Marriott Brunswick Freeport offers great deals on lodging. You can book now at the Fairfield Inn in Brunswick.  Book for Polar Bear Triathlon  or you may also book rooms by calling the hotel at 207-721-0300 and talking with the front desk. When calling to book your room, ask to make reservations under the Polar Bear Triathlon (you receive the discounted rate of $109).
Student Category
The Polarbear offers a discount to all full-time students, regardless of age and free entries for 18 and under students up to 30 days before the event, then significantly discounted entries.. Participants must list their institution on the entry form and WILL be asked to show proof of enrollment. Students will compete in their appropriate age group.
Inclement Weather
There is NO rain date, We Go Rain or Shine. In the case of foul weather or inclement conditions, Acts of God, or other reasons the race cannot be executed as planned, management reserves the right to cancel, postpone, reschedule, switch to virtual for all participants, alter, modify the race / course, remove one or more of the legs (swim, bike, or run) or cancel the race altogether.
In any case there will be No Refunds of race entry fees. Each athlete must accept any such risk of their entry fee paid. There is no complementary race entry to a future race. All monies collected are used to develop and produce the event, including all race supplies, staffing, and administration. We pledge to make every effort to produce a fair, safe and exciting event for all and we will do everything in our power to prevent changes to the published race course and schedule; however, there are many factors and stakeholders involved. Any decision we make to go forth with the race is based on the overall event safety. In the case of a change or cancellation due to factors beyond our control, we are unable to offer any refunds for any entry, regardless of what type it is.
The race has a no-refund policy (click here to read the specifics and reasons why). However, we understand that things come up and plans change. Therefore, we offer an option to purchase a "fully refundable entry" at the time you sign up, for an additional $25. This will provide peace-of-mind, knowing that your entire entry fee is refundable up until three days before the race. If you are interested in this option, we recommend that you read the details by clicking here.
Post Race
There will be an awards ceremony and plenty of food and drink available to all athletes. It is a fun, festive atmosphere for the whole family. Stick around and hang out with your fellow triathletes. It is the perfect way to kick off the season!
Results
There will be chip timing and results will be available the day after the race. Athletes will receive their swim, T1, bike, T2, run, and overall times. Please click here for results.
Rules
Please look over the rules – you are responsible for understanding them and abiding by them. They are available at www.usatriathlon.com.