REGISTER FOR THE SEBAGO LAKE TRIATHLON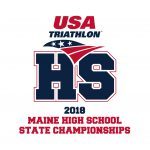 All participants must have a one-day USA Triathlon (USAT) membership ($15 as of 1/1/2016) or an annual membership.  We will email high school participants with a code for a FREE USAT Membership!
Annual and one day memberships are available to purchase during the registration process.  We verify annual memberships through integration with USAT as part of the registration process.  Memberships are purchased directly through USAT and only refundable through USAT.
Refund Policy
There will be no refunds issued for the Sebago Lake Triathlon unless you have a refundable entry. Please click here to read the full refund policy.
T-shirt Policy
While we try very hard to accomidate everyone's shirt size, regardless of when they register, in order to offer a fair system for distributing race shirts, the following policy is in effect: Athletes that register within three weeks of the race are not guaranteed their t-shirt size. They may choose from all remainig sizes after the race. If you register in the week of the race, we may not be able to guarantee a T-shirt. If you want to be guaranteed a t-shirt size, please register early!
Barbeque
All particiapnts receive a barbeque and beer ticket.  You can purchase additional tickets for friends and family during the registration, or add tickets later by logging in.  Friend and family can also purchase barbeque tickets below.